Snapchat Origins
In 2011, three friends came up with the idea that would change the course of social media forever. Like many of modern technology's greatest innovations, it all started in a dorm room.
Evan Spiegel, Reggie Brown, and Bobby Murphy were in their dormitory at Stanford University, trying to create a new form of messaging. This was shortly after Steve Jobs had revolutionized the cell phone industry with the world's first iPhone.
By 2011, most college students and teenagers had some type of camera phone, and a growing majority had touchscreen smartphones. The decade before had been dominated by phone calls and text messages. Now, the trend was picture messaging.
There was only one problem.- pictures take up a lot of space, and back then, it was rare to have more than 25 or 30 Gb of storage on your phone (and to get that much, you'd have to fork over a pretty penny).
Additionally, there was also the small problem that your photos could be downloaded and saved for blackmail later.
That's where Snapchat came in.
Fun Fact: They originally named it "Picaboo." This is where the idea of using a ghost as their logo came from.
The idea was to create an app that would enable friends to send pictures and videos to each other with the world's first auto-delete feature. This meant you could have an entire conversation consisting of photos and videos without worrying about losing valuable storage space or compromising your privacy.
The Fun App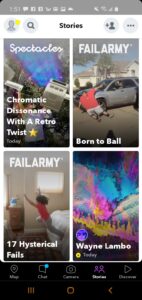 The main feature that distinguishes Snapchat from other social media platforms is the fact that it's designed to be fun. The goal is to have a conversation, share snippets from your life, and communicate through images.
In fact, it's one of the only platforms that doesn't have a traditional form of written posts or updates. Snapchat didn't even introduce ads until 2014, making it one of the newest social media advertising platforms on the market.
Using Snapchat For Business
With all of that being said, the idea of using Snapchat to promote your business may seem like a little bit of a longshot and maybe even counterintuitive. Today, however, we're going to show you that it can be a valuable marketing asset, especially if you've already been producing video content.
Why Snapchat?
Snapchat has several unique advantages. The first is their unintrusive, natural ad flow that ensures fewer skips and encourages higher engagement. Ads are displayed sporadically between user stories. While there is a fine print in the corner of the screen that says "Ad," by the time you realize you're watching an ad, it's almost over.
Additionally, Snapchat works best with organic style ads- ads that show everyday people doing everyday things. This means that your production costs will be lower, and you can run a successful marketing campaign with footage from your phone.
Pretty cool, right?
Additionally, the platform claims that users are "60% more likely to make an impulse purchase than on other platforms."
Three Unique Forms of Advertising
Another great reason to advertise with Snapchat is that they have some of the most unique ad forms on social media. Their main focus is advertisement through engagement. This means that half of the time, the user will be having so much fun with the ad, that they won't even realize they've been consuming an ad.
If you've studied subliminal marketing at all, you'll understand just how powerful this can be. Once you create your business account, you'll have three ad options to choose from:
Snap Ads
For the uninformed, Snapchat was the first platform to offer "Stories." Instagram founder, Kevin Systrom, even publicly admitted that he stole the idea directly from Snapchat.
This feature allows users to post a picture or video update that stays up for 24 hrs before disappearing. Users can scroll through and watch all of their friends' stories and stay up-to-date with what's going on in their social circle.
Snap Ads are short video-form ads that appear between users' regular friend stories. If you've ever used Instagram's "sponsored story" advertising feature, you'll find this almost identical. Snap Ads that perform the best tend to be organic and flow seamlessly with other organic stories.
Lenses
Snapchat lens ads are truly unique to the platform. They allow businesses to create an AR (augmented reality) ad that encourages user engagement like never before.
For instance, Taco Bell recently did an AR ad that would turn the user's face into a taco once they put their Snap cam in selfie mode.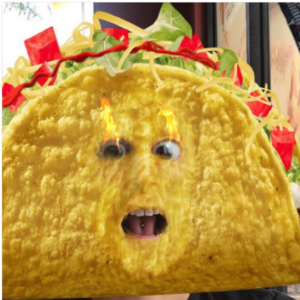 The best part is that you don't have to be a computer programmer or 3D designer to create your own AR ads! Snapchat's Lens Web Builder allows you to create your own Augmented Reality ads using their library of 3D objects, animations, and effects. Did we mention it's also free?
Filters
Ask any teenager what app they take the most selfies with, and they'll tell you it's Snapchat. Ask them why, and the answer will undoubtedly be, "Because they have the best filters."
As a business, you can create a custom photo filter to appear in users' reel. One great example is a photography company that sells preset photo filters to make images appear better. They release one of their paid filters for free on Snapchat as a way to advertise their business.
The filters that you choose for advertising can be as simple or in-depth as you want them to be, and you can make them all with the platform's free filter creator.
Low-Cost Advertising
Google and Facebook ads have skyrocketed with their pricing in the past decade, making them increasingly more difficult to see an ROI on. Compared with the two giants, Snapchat is still a young company. Their user base is also only 30% as big as Facebook (300 million users compared to 1 billion +).
These factors mean that you can still advertise at an affordable rate and see a decent ROI with your marketing budget. Currently, Snapchat allows business pages to run ads for as little as $5 per day. The more you spend, the better results you'll get, but their commitment to helping the struggling startup is a nice touch.
Goal-Based Bidding
When it comes to sponsored advertising, Snapchat has a unique goal-based bidding feature. Snapchat's algorithm intuitively places your ads in a manner that will get you the highest response for the lowest cost. Other platforms will gladly allow you to run an inefficient marketing campaign as they'll still turn a profit either way.
When you're setting up your ad, there is a section called "Delivery." Here, you'll be able to select one of three "bidding strategies":
Automatic Bidding– Allows Snapchat's algorithm to automatically set the ad bids in order to achieve your preset goals (target audience, budget, and ad time).
Target Cost Bidding– You set a budget and a date you want results by. Snapchat does the rest and ensures maximum viewership and actions (swipe ups, views, etc.) within these parameters.
Maximum Bidding– If you're working with a higher budget, this option tells the Snapchat algorithm that you don't mind paying for higher-cost ad spots. The algorithm will focus on obtaining the maximum level of action, even if the CPA (cost per action) is higher.
Snapchat User Stats
If the ability to run successful low-cost ads isn't enough to convince you, then maybe this will:
Snapchat is one of the highest-used apps by Generation Z, which includes ages 7 to 22-years old.
Almost 70% of teens 13 to 17 actively use the app.
Among 18 to 29-year olds, 62% actively use the app.
There are currently around 214 million daily users.
Almost 50% of users reside in the US, which is significantly more than Facebook and Instagram.
All of this goes to show that if you've been trying to find a way to market to a younger demographic, Snapchat is the way to do it.
Millennials and Generation Z currently hold the largest spending power in the market, meaning that it's more important than ever to figure out how to advertise to these particular demographics.
Tips To Build A Snapchat Following
By this time, hopefully, we've convinced you to start advertising on the platform. Your first step is to create a following. Before we get into paid marketing with Snapchat, let's spend some time on the organic methods you can use to grow your following. These are either low-cost or no-cost and are a great way to start off as a new user.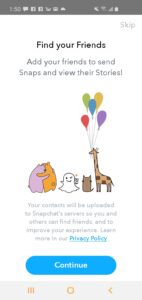 Use Your Contacts
The first thing you should do after creating your account is to utilize the existing contacts on your phone! Once you allow Snapchat to access your contacts, they'll cross-reference that information with their database of users and show you a list of all of your friends who already use the app.
You'll then be able to friend request them, and before long, you'll be able to market to the people who matter most.
Blogs and Newsletters
Another common way to advertise your new Snapchat business account is to guest post on blogs or send out newsletters from your own blog. When you guest post on another person's blog, they get free written content on their site, and in return, you get to place your Snapchat handle in your signature. This is a great way to expose your account to users who wouldn't otherwise come into contact with your brand.
If you've built up an email marketing or newsletter list, you can leverage them as well. Send out a friendly, informative email telling them that you've just created a Snapchat account for your business and that you would really appreciate a follow. If you want to encourage even more action, give them something valuable, such as a free article, ebook, follow-back, shoutout, etc.
Stickers and Business Cards
Sometimes, doing things the old-fashioned way still works- especially if your demographic is into retro throwbacks. Make a cool business card with your Snapcode and hand them out to your friends or strangers you meet in the streets. This unique method gives people a physical token to remember you by, and they might just follow through and check your account out.
You can also turn your Snapcode into a sticker and place it around town. Your local train stations, bus stops, bathrooms, and bulletin boards could turn into your greatest form of free, organic traffic.
Merch
While this method is less common, you can get your Snapcode screen-printed onto t-shirts, hoodies, hats, etc. Wherever you go, you'll be a walking billboard for your Snapchat. As long as people like you, they'll usually be willing to scan your hoodie and give you a follow.
Vehicle
You've probably seen this method a few times while driving down the highway. It's particularly popular among car enthusiasts. All you need to do is go to a local sign printing company, give them your Snapcode or Snapchat handle along with the text you want to be printed, and they'll print a custom vinyl that you can put on your car.
Vinyl stickers are inexpensive, easy to apply, and easy to remove should you ever want to.
Optimizing Your Snapchat Presence
Now that you know some organic ways to gain a local following and leverage your existing contacts let's talk about some ways that you can optimize your profile for internet marketing purposes.
Use Snapcodes
A few years ago, Snapchat introduced "Snapcodes." Essentially, these are QR codes that are unique to each Snapchat user account. They're simple and easy to create.
Once you have your code, all you have to do is share it through your social media pages and the various organic methods that we mentioned above. Other people use their phones or Snapchat app's built-in QR code scanner and will be automatically taken to your account with the option to follow you.
Cross-Pollinate
We're not talking about bees here. In regards to social media, cross-pollination involves sharing your social accounts across various platforms. The chances are that if you're just now creating a Snapchat for your business, you probably already have an existing following on other platforms.
Cross-pollinating allows you to leverage followers from Facebook, Instagram, Pinterest, TikTok, or any other platforms. All you need to do is make a few posts talking about how you just made a new Snapchat account, place your handle in your bio, and wait.
Another great tactic is to use Instagram and Facebook stories to share your Snapcode with your friends. This will allow them to screenshot it and follow you directly.
Paid Marketing With Snapchat
Once you've exhausted the various organic means of acquiring Snapchat followers and traffic, you're ready to start your first paid marketing campaign on the platform!
Your first step is going to be narrowing down your target audience, then you'll need to figure out a content and marketing strategy, set goals, and achieve them.
Get your notebooks out, because this is the important section.
Figuring Out Your Target Audience
Before you advertise any product, service, or even yourself as an artist, you need to understand exactly who you're marketing to. Here are some questions that you need to ask yourself before you start creating content for Snapchat:
Who consumes my product or service the most?
Which age groups are most interested in my business?
What are the values of these groups?
Do these groups prefer an image or video content?
Do they prefer short clips or long-form video?
What are some giveaways and promotions that I can utilize to increase my following?
If you've been in business for a while, you've probably already figured out the answers to some of these questions. It's never a bad time to go back to the drawing board and re-evaluate, though. You should do this before starting a marketing campaign that involves spending your hard-earned money.
Target Groups For Paid Promotions
Whenever you start a new ad campaign, you'll be able to target these specific groups in order to get better engagement and response. Aside from some third-party advertising partners, the Snapchat platform offers three key ways to target your audience:
Targeting By Age
Targeting By Predefined Audience
Targeting By SAM (Snap Audience Match)

Age Targeting
Age targeting is the simplest and easiest way to target an audience. All you need to do is plug-in and select which age range you would like to view your ads.
Predefined Audience
This will allow you to target users based on four separate categories:
Lifestyle
Shopping Habits
Viewing Habits
Locations Visited
Snapchat has collected this data about users through in-app usage as well as through third-party data collection agencies. The main benefit of this targeting option is that it allows you to get into all of the nitty-gritty specifics that drive users' buying decisions. The better you know your audience and habits, the better you'll be able to drive high-quality traffic and lead to your business.
Lifestyle
This category allows you to advertise to users based on interests such as political affiliation, hobbies/entertainment, social pages they follow, the music they like, etc. It also utilizes data that Snapchat has acquired from tracking these users' in-app activities such as ads they watch, pages they follow, etc.
Shopping Habits
To get this data, Snapchat partnered with Oracle to obtain information on what users spend their money on outside of the app. While this may sound intrusive, you can bet that every other social media platform is doing the same thing.
Regardless of the moral or privacy-related implications, however, it's a great way for you to target your ads at users based on where they've shopped in the past.
Viewing Habits
This targeting option allows advertisers to target Snapchat users based on the tv and movies that they're interested in. To obtain this information, Snapchat works with a third-party data giant- Comscore. This company tracks the cable television viewing habits of millions of cable subscribers in the US and then cross-references them with existing Snapchat users.
Locations Visited
This is Snapchat's version of "Geo-Fencing." It allows them to track users' GPS locations and then show them specific advertisements based on locations that they visit. It's a perfect strategy to target your competition or target users who are interested in certain restaurants or forms of retail.
A perfect example of this would be a car insurance agency that targets its ads at people who have recently visited a new car dealership.

Create a Content Strategy
Once you have the who, you need to figure out the what.
Above, we mentioned that you can create Snapchat Lenses and Filters. These are completely free and are a great way to organically market yourself. However, if you want a sponsored lens, they're incredibly expensive and usually reserved for larger companies who can drop $100,000+ at a time.
For this reason, we'll be focusing on creating content with traditional SnapAds, the story-based advertising format that's most popular on the platform. You can advertise with SnapAds for as little as $5 a day, which makes them perfect for small business marketing.
Who's Watching?
Understanding your audience better than they know themselves is paramount when creating ad content. Once you have your target demographics, you'll want to figure out what type of content those groups value the most.
Given that Snapchat users are primarily Generation Z and Millenials, the short-form video format is likely to work the best. Younger generations tend to have a shorter attention span and are quickly bored with long videos. They're also more perceptive than ever and know when they're being advertised to.
All this being said, your SnapAd campaigns will likely be quite different from your usual Instagram and Facebook campaigns. Let's talk about some ways to change your strategy up to cater to your Snapchat viewers.
Act Natural
The best way to advertise on Snapchat is in an organic, natural manner. As we mentioned, this is the "fun" app. Users aren't on here for business, they're here to have a good time, get a laugh, and share experiences with friends. The more that you can embrace this idealogy, the more success you'll have marketing.
If you spend some time going through various SnapAds on your feed, you'll quickly notice that many of them have one thing in common- they're shot in selfie-style. The reason is that this appears more natural. The more authentic an ad seems, the lower the chance it will be skipped over, and the higher the chance you'll receive engagement or make a sale.
Be Funny
Depending on your product, you might be able to leverage your ability to make people laugh. When it comes to life, Millennials and Gen Z tend to view a lot of things through the prism of comedy. Their comedy isn't the same lighthearted 90's Seinfield-style, though. Millennial humor tends to be more cynical in nature. Sarcasm is their second language.
Often, the best way to market your product is to present a hilarious situation involving some dark humor and clever product placement.
Support a Cause
Young people want to believe in a better future. With all of the negativity and fear in the news today, companies need to be sensitive to the way that they market. The last thing that a business wants is to get "canceled" for being insensitive or overly sales-oriented through these times.
In this area, you would be wise to follow the examples of some of the industry giants who are actively supporting social justice movements such as Black Lives Matter. These movements have captivated the younger generations, and every day that passes, they're making decisions about which companies to support.
If you can show them that you care through thoughtful advertising and content, then you'll go a long way to gaining their support and trust.
Give Them Something
Financially, we're going through some rough times. Due to the COVID-19 pandemic, there is a record number of people without jobs, and many families are downsizing or facing evictions.
Sorry if this sounds grim, but its the truth.
In the face of all of this, however, the younger generation is still spending money. In fact, the week after the first wave of stimulus checks was released, it was one of the most successful weeks in the history of e-commerce. They're just being more careful about their buying decisions, meaning that it's more important than ever to give them a good reason to buy from you.
The best way to get somebody to spend money with you is to give them something upfront. If you're selling physical products this could mean giving away free samples or running a special BOGO deal. If you're selling a service, consider giving them their first month for free (it worked for Netflix).
The more that you give, the more it will drive your sales up. Get creative. Think of low-cost, impactful things that will inspire trust in your brand.
Sometimes the cheapest and easiest thing that you can do is to make daily Snapchat stories giving away free advice.
Create a Marketing Strategy
Now that you know who you're marketing to and what type of content you'll be focusing on, it's time to get professional and come up with a solid marketing strategy. Once you have a few good ideas, go ahead and make the content and do a little bit of "split-testing."
This involves running multiple low-cost campaigns targeting different demographics to figure out which strategies work the best. By utilizing split-testing, you won't have to worry about wasting your money on an ad that you're not sure about. It allows you to test the waters, refine your audience data, and then go all-in on a plan that works.
With any social media marketing strategy, the key is to remain consistent. Don't get discouraged when your campaign doesn't go well after the first day or two. Tweak your options, refine your goals, and keep on hustling until you find a strategy that works.
Set Objective and Decide On Your KPI's
After you've come up with some ideas to split-test, you need to set objectives for each campaign. Here are some examples:
Create a SnapAd that promotes a free webinar or ebook in return for a lead or sign-up.
Create a SnapAd that's engaging, inspires trust, and is designed to grow your following.
Create a SnapAd that's funny or interesting and encourages "Swipe Ups," leading back to your business' main webpage.
While you can try to encompass multiple goals into each campaign, you'll likely notice better results if you're focus is clear.
Your next step is to decide on your KPI's. Key Performance Indicators are the metrics that you'll use to see how close you are to achieving your advertising goals. As a business account, you'll have access to all of the important Snapchat "Insights" you need to determine this.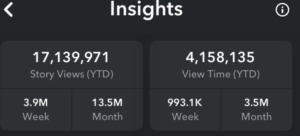 There are several key KPI's that Snapchat focuses on, so let's go over those.
Unique Views
This metric tracks the total number of unique first-time views that you get on your SnapAd. It's similar to the "Reach" metric from Facebook and Instagram. A unique view counts even if a user only views your story for 1 second.
There are three sub-categories that it tracks as well:
Year-To-Date (YTD)- Tracks how many unique views you've had since launching the ad in a given year.
Weekly- Tracks how many unique views you've averaged on a weekly basis.
Monthly- Tracks how many unique views you've averaged on a monthly basis.
One important thing to note is that this metric only tracks how many unique users have seen the ad, not how many times.
View Time
Next to the "unique views" box, there'll be another box labeled "view time." This measures the total number of seconds that users viewed your sponsored ad. It also breaks down the average view times by YTD, weekly, and monthly views.
This metric is important because, unlike the previous insight, it tracks how engaging your content is. It's possible for an ad to have tons of unique views, but very little view time. This means that your SnapAd is frequently skipped and that you should go back to the drawing board to create better content.
If your view time is steadily rising, however, you'll know that your ad is working and that people enjoy watching it.
To get an even better idea, you can also swipe the screen to see your average view time by day. This is important because it lets you know which days that you're being watched the most. In turn, you can then tweak your ads to show less on the slow days and more on the busy days.
Fall-Off Rate
Another key point when you're looking at views is figuring out your "fall-off rate." The platform doesn't give you a specific metric for this, so you'll have to figure it out for yourself. It's still important, though, and lets you know when you need to tweak the type and amount of ads and content you're putting out.
Say you post several images or videos to your story in a day. The first video gets 200 views, the second gets 150. Ideally, you want the views to remain consistent throughout. However, if you see a dramatic drop like this (25%), it means that your second post was significantly less-liked than your first.
Story View Percentage
This is a very important insight. It shows you, on a day-by-day basis, how many times that your story or ads were viewed to completion. If you're averaging 85% or more, then it's doing pretty good. If you're averaging 95% or more, then you're making excellent content.
Of course, the story view percentage can vary depending on a number of factors aside from your content. Factors could include:
What time of day you're posting.
How many times you've already posted or run ads that day.
If it's a holiday, weekend, etc.
If you notice that your percentages are very low, it means you should take time to drastically revamp your SnapAd or the parameters you set for it.
Screenshots
This is an interesting metric to consider. It measures how many times your ad was screenshotted. Depending on the type of ad or post you made, this could be a good thing or a bad thing. It means people are saving screenshots of your content to presumably share with their friends and family.
This is one of those situations where any publicity has the potential to be good publicity. The more screenshots people are taking of your content, the more of an impact you're making.
Demographics
Once you've been advertising for a week or two, it's a good idea to take a look at the demographics of your followers and subscribers. This metric will tell you the percentage of viewers that are men vs. women. It will also tell you the age range that your content and ads are most popular with.
This is an especially good metric to measure when you're doing your initial split-testing.
3 Tips To Create Great Snapchat Content and Ads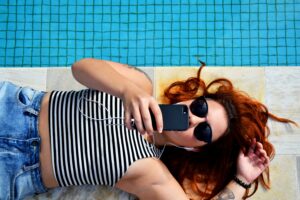 After setting goals and learning how to track your success on the platform, it's time to talk about what it takes to make great content. Ideally, you should be playing both sides- organic and paid. Your paid promotions will help you to acquire new followers and traffic, whereas your organic content and stories will help you maintain your existing followers. If you do one without the other, then you'll be missing half the pizza. The goal of Snapchat marketing is simple- attract new followers and attention while reminding your existing fanbase that you're still here.
Create A Persona
Since the majority of your content is going to be in video format, you may want to consider creating a sort of "Snapchat persona." Similar to Geico's Gecko or Progressive Insurance's Flo. For your brand, it could mean enlisting a friend with acting skills or learning the art yourself.
A persona will help your brand image remain consistent and memorable. It'll also help you to maintain the lighthearted, upbeat air that Snapchat users have come to expect from the platform.
Learn From the Competition
If you're unsure of where to start with your content, one of the best things you can do is to study your competition. If you're a small business, then look at some of the tactics that your larger competition is using to get noticed on Snapchat.
You should never outright copy them, but take note of certain key points such as:
How long are their ads?
How do they draw in the viewer?
Do they tell a story with their content?
How active are they with organic stories compared to ad content?
If a larger business can afford to spend a lot of money on their ads, chances are that they know what they're doing.
Use Stories To Show "Behind The Scenes"
One of the most alluring characteristics of Snapchat is that it has an informal, unpolished vibe. Million-dollar CEO's take selfies in their pajamas, the Kardashians record their pedicures, and star athletes show you what their favorite cheat meal is.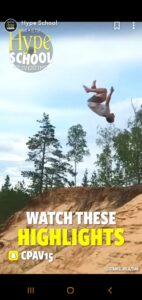 If you're using Instagram, Facebook, or LinkedIn to showcase the more refined side of your business, then use Snapchat to show your personal, down-to-earth side. Use your stories to show the "hows its made" or showcase your employee of the month, a favorite review, or a project that you're working on. Show your followers that you're a normal person and a fun business, just like them.
Final Thoughts
While Snapchat doesn't boast the massive level of global users that competing social media platforms do, it does provide you with a means of targeting the younger generation in the US. No matter how established your company is, you'll need to capture the attention of the up-and-coming buyers in the US.
Snapchat provides the perfect opportunity to do this while showing a different side of your business that's more relatable, and frankly, more trustworthy. If you combine this fact with the user stats listed at the beginning of the article, Snapchat could be an untapped resource for massive growth and expansion.
So why not give it a shot? Creating a business account is easy, and with their vast repertoire of targeting options and data, you'll be able to create targeted ads that are guaranteed to make an impact.
LEARN MORE ABOUT US
Payperlead.com is a full service Performance Agency that helps you acquire customers at scale. The best part? You don't pay unless we're able to get you results.
COMMENTS
Deprecated
: File Theme without comments.php is
deprecated
since version 3.0.0 with no alternative available. Please include a comments.php template in your theme. in
/www/payperlead_967/public/wp-includes/functions.php
on line
5613